Since it's original release in 2013, SQL Backup Master has been downloaded and installed by tens of thousands of users - making it one of the most popular SQL Server database backup solutions available in the world today. Version 4 is another huge step forward in our goal to make safe, reliable, off-site SQL Server backups available to everyone.
SQL Server 2017 Support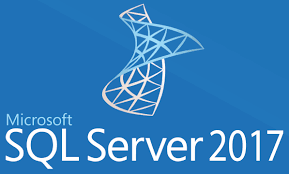 SQL Backup Master 4 now offers support for Microsoft's SQL Server 2017, which has an expected general release of fall, 2017.
SQL Backup Master 4 has been tested extensively with this new release, and has been enhanced to support discovery of available installed instances. We're proud to offer support for this new SQL Server release in advance of its official release by Microsoft.
Microsoft OneDrive for Business Support
SQL Backup Master has supported uploading of SQL Server backups to the personal edition of OneDrive for quite some time, and now we're proud to announce that OneDrive for Business is supported as well.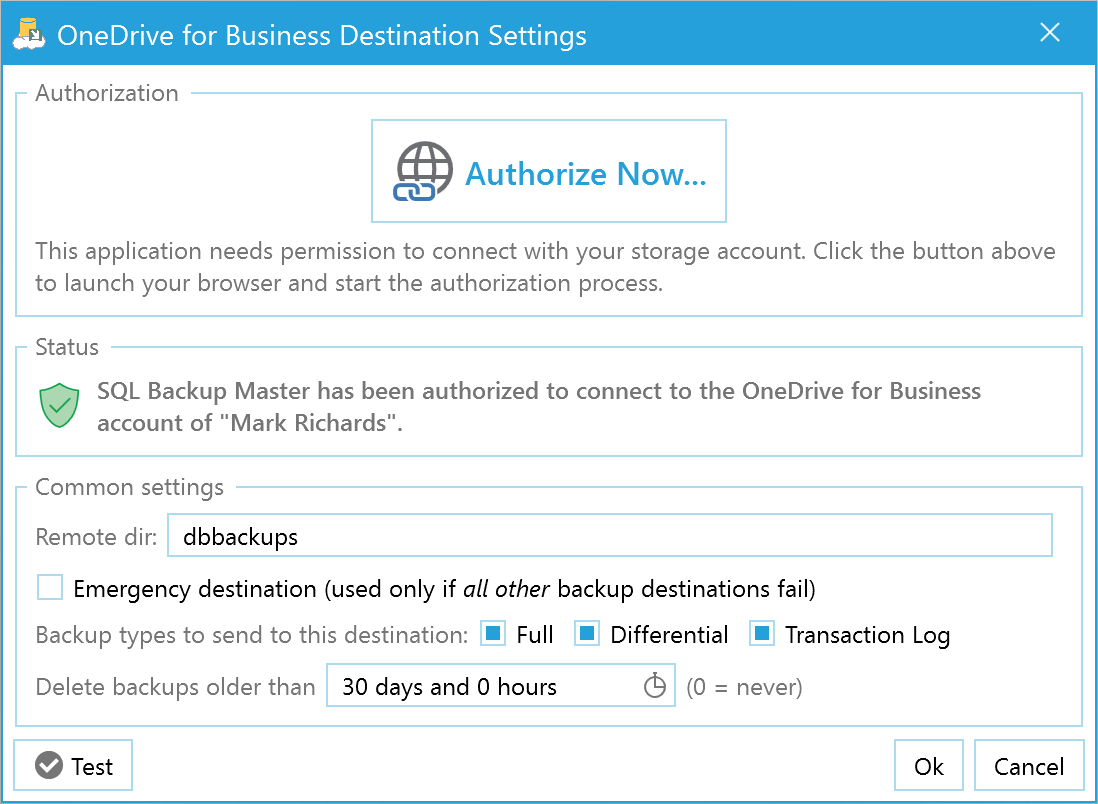 Backup Scheduling
SQL Backup Master 4 now allows you to constrain the execution of SQL backups to a specific set of working hours, thus increasing scheduling flexibility. For example, you might elect to perform frequent backups only during off-peak business hours.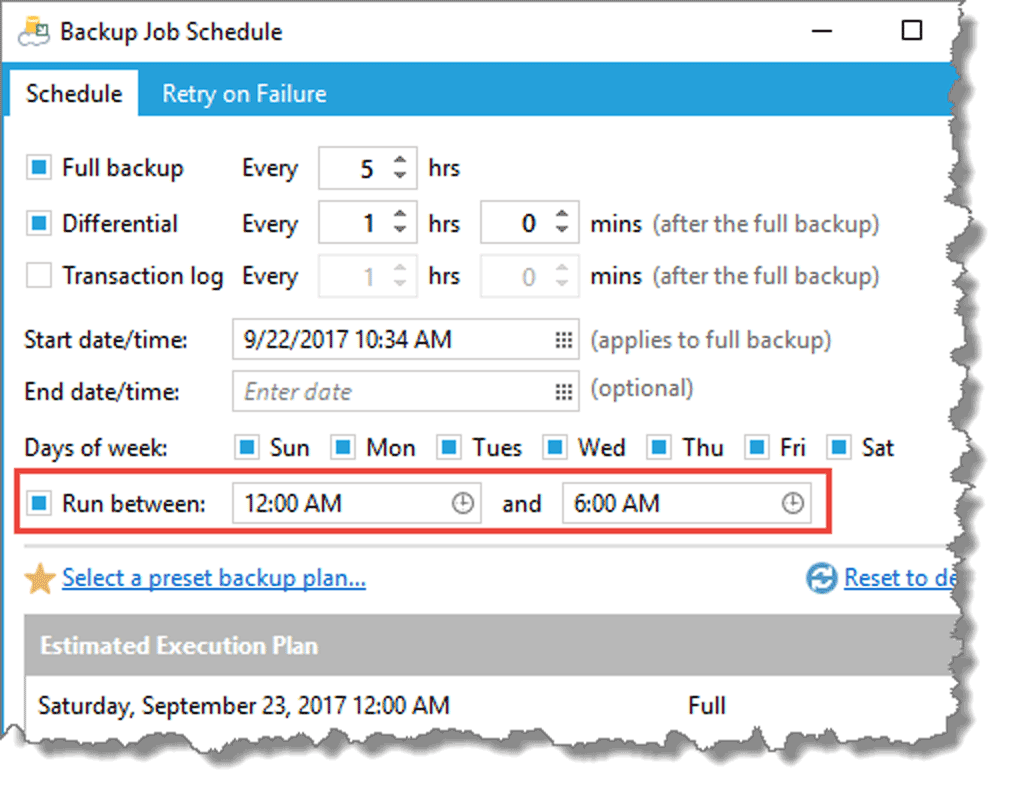 New Backup Options
SQL Backup Master 4 introduces several powerful new backup job options, including:
Ability to store backups for each database in its own subfolder
Option to skip auto-discovered user databases that are in an offline state
Option to skip transaction log backups for auto-discovered databases that use the SIMPLE recovery model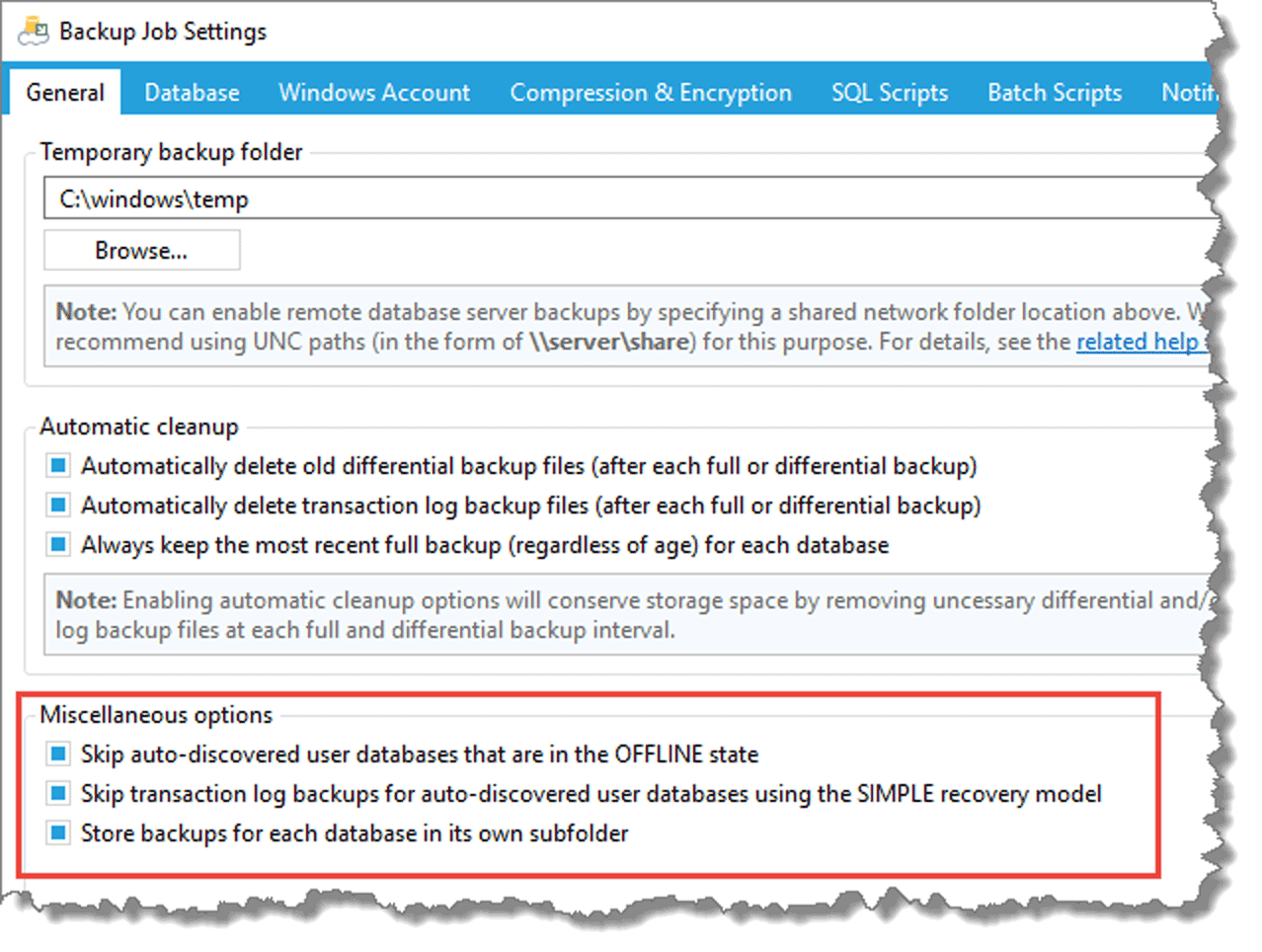 Database Backup Exclusions
When the Back up all non-system databases option is engaged, users now have the option of excluding databases from the backup. Databases can be excluded by name, with wildcard character support allowing for simple patten matching.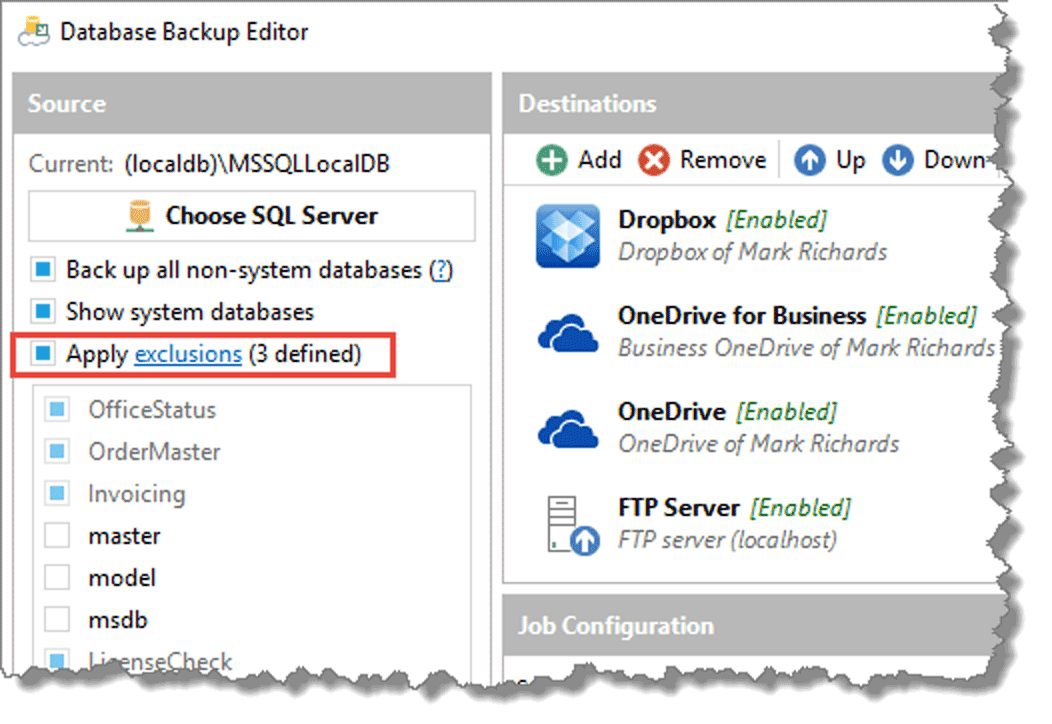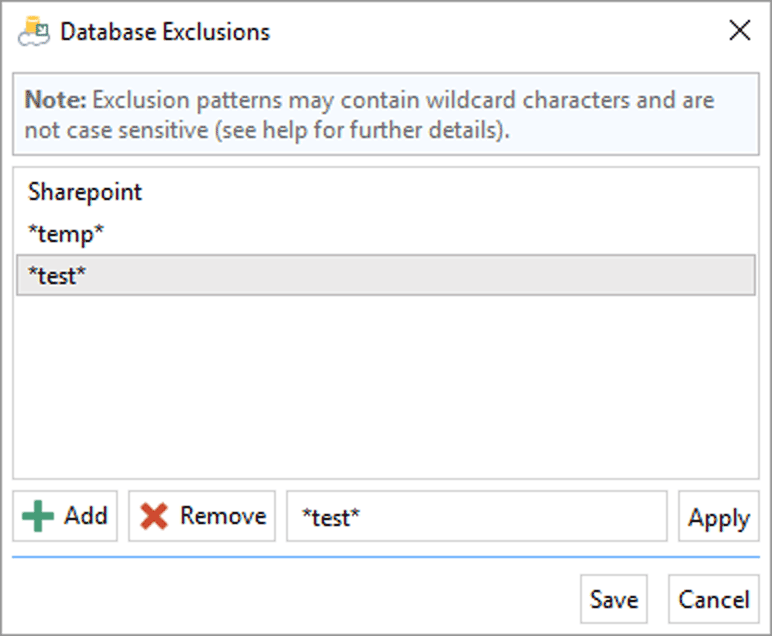 Custom Script Support
SQL Backup Master 4 offers substantially improved support for custom scripts, which can be executed before and/or after SQL database backup jobs.
Custom batch (.bat) scripts can now be executed as an alternative or adjunct to existing SQL script support.
Custom SQL scripts are now preceded by an XML variable declaration that describes the backup state.
Custom scripts can now be enabled or disabled without removing the associated script text.
Long running custom SQL scripts can now be cancelled during backup job progression.
Script output is now consumed by and integrated into backup job logs.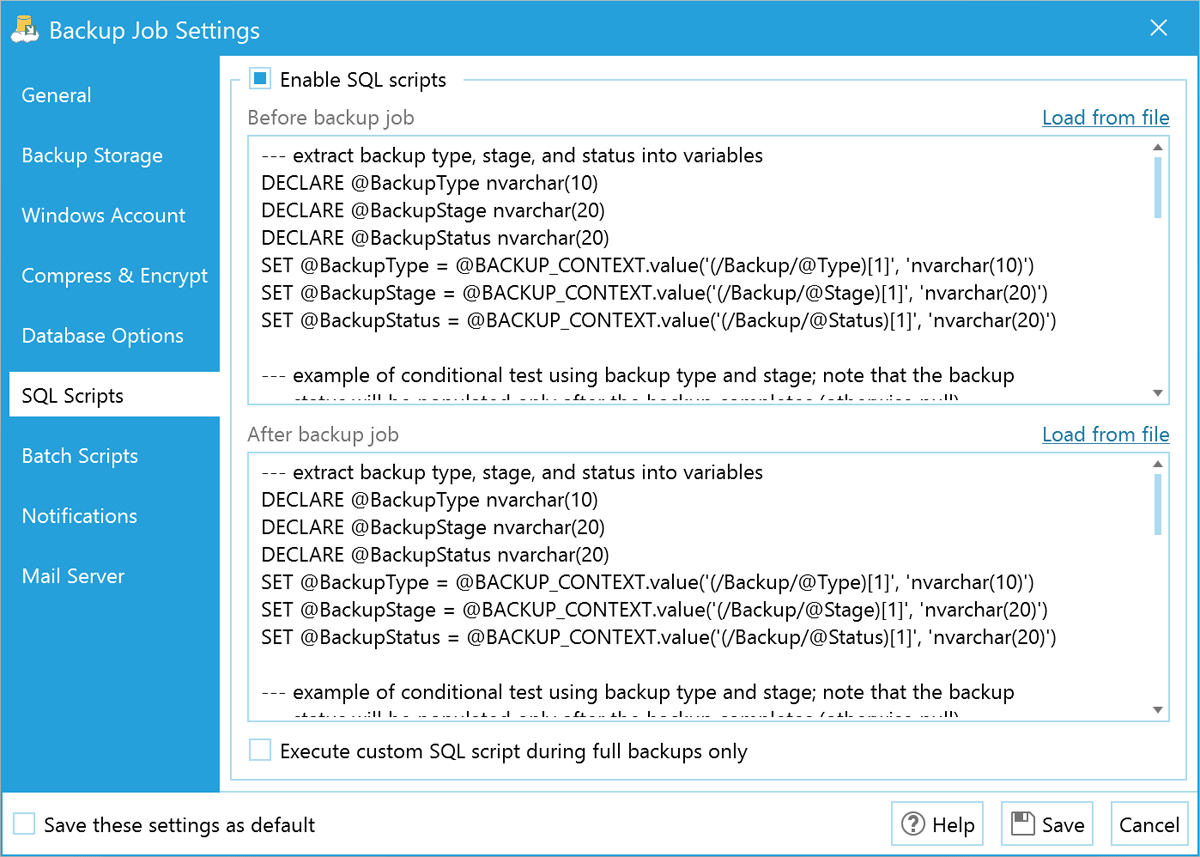 Export & Import Backup Configurations
SQL Backup Master 4 includes built-in support for exporting and importing backup job configurations. These features make it easy to archive copies of your backup configurations or move them from one machine to another.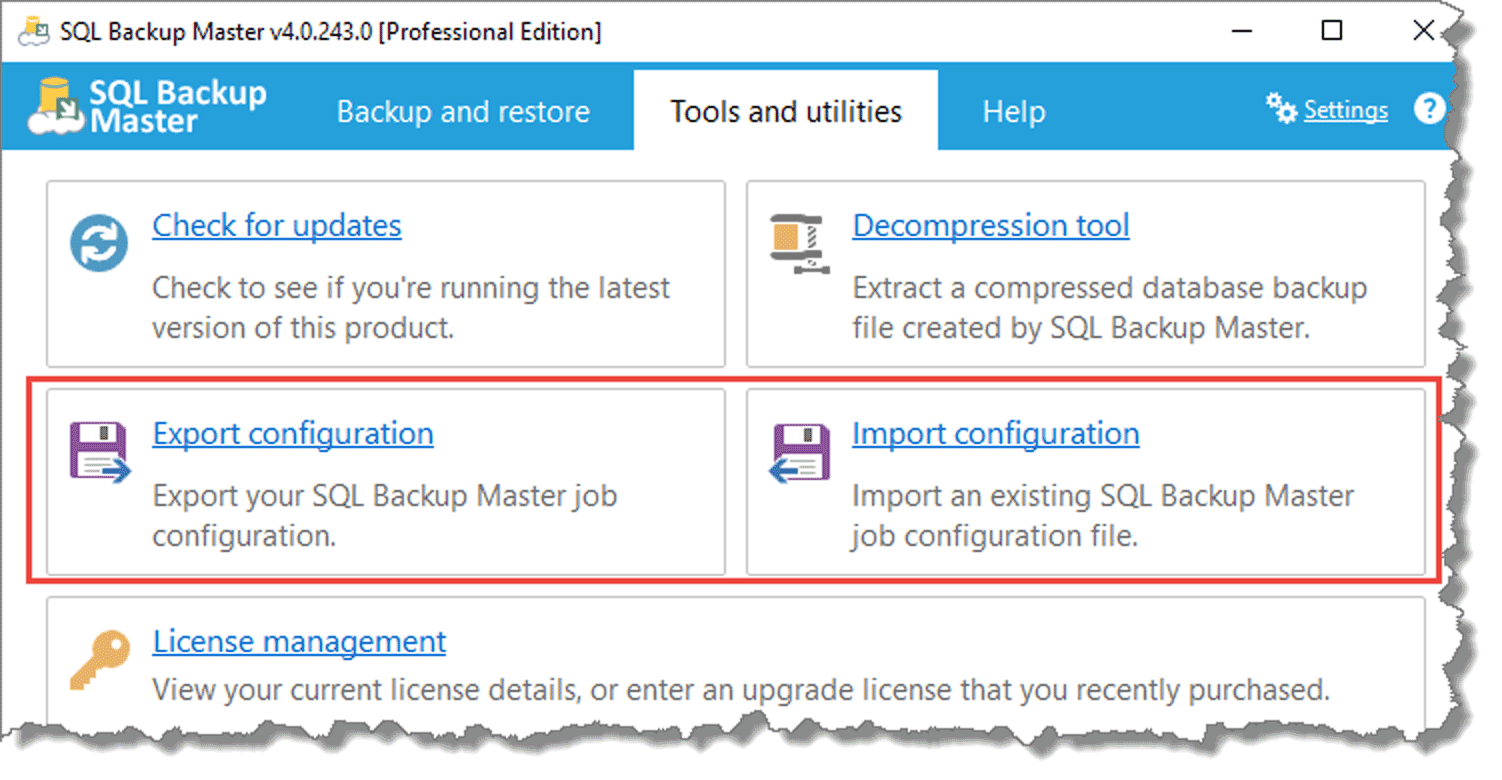 Many Additional Improvements
The above overview is just the beginning. We've refined and improved many other features in SQL Backup Master 4, and we think you're going to love the changes.
The recovery explorer tool now supports navigation of backup destination subfolders.
Added support for emergency backup destinations, which will only be used if all other destinations fail.
FTP uploads can now be (optionally) resumed automatically during retry intervals if a partial upload is present.
FTP upload retries now trigger a server reconnection in order to reset the connection state.
The Dropbox backup destination can now upload to a user-specified app subdirectory.
Added the ability to easily duplicate (clone) existing backup jobs.
Passwords that are part of backup job settings can now be made temporarily visible.
Users can now back up specific system databases while still backing up all non-system databases.
Backup log archival compression speeds are now multi-core enabled.
Decompression of zip files (during database restore, etc.) is now multi-core enabled.
Backup jobs and destinations now use colors to better indicate enabled or disabled state.
Various improvements to logging (upgraded subsystem, increased log verbosity, and more).
Installed paid licenses can now be removed, thereby reverting to free edition functionality.
Log viewer has improved performance, reduced memory usage, and better readability.
Improved ability to differentiating between local and remote SQL Server instances.
Added a command line interface for starting full, diff, or log backups.
Greatly improved appearance and usability in high DPI environments (4k monitors, etc.).
Performance and reliability of Dropbox uploads are considerably improved.
It is now possible to set an explicit timeout for FTP and FTPS/SFTP connections.
Improved (no longer indeterminate) progress indication during backup file creation phase.
Added an option to verify full backups only (skips verify for diff and log backups).
Backup upload progress indicators have been significantly improved, and now show file sizes.
Added a right-click menu option for enabling or disabling all backup destinations at once.
All backup destination editors now include a help button in the title bar.
Numerous additional performance and usability enhancements, bug fixes.
Much more (see full version history)